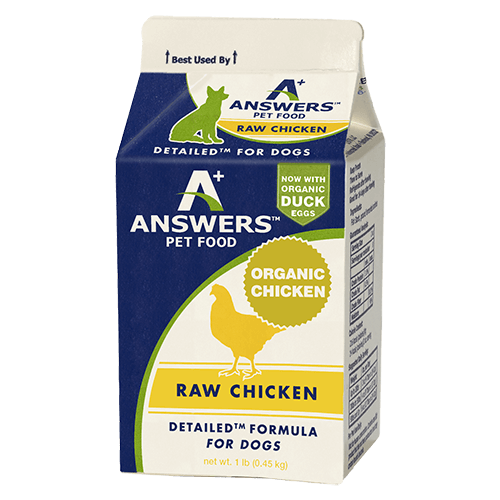 Latest Update May Not Be Current
Unable to Locate Complete Label
Data on Company Website1
Answers Dog Food (Detailed Formula) receives the Advisor's top rating of 5 stars.
The Answers Detailed product line includes 4 raw frozen dog foods.
Each recipe below includes its related AAFCO nutrient profile when available on the product's official webpage: Growth, Maintenance, All Life Stages, Supplemental or Unspecified.
Important: Because many websites do not reliably specify which Growth or All Life Stages recipes are safe for large breed puppies, we do not include that data in this report. Be sure to check actual packaging for that information.
Answers Detailed Pork [A]
Answers Detailed Beef [A]
Answers Detailed Turkey [A]
Answers Detailed Chicken [A]
Answers Detailed Chicken formula was selected to represent the other products in the line for this review.
Answers Detailed Dog Food Chicken Formula
Raw Dog Food
Estimated Dry Matter Nutrient Content
Protein =
41
% | Fat =
31
% | Carbs =
20
%
Ingredients: Organic chicken, organic chicken heart, organic chicken liver, ground organic chicken bone, organic chicken eggs, organic carrots, organic green beans, cod liver, organic yellow squash, butter, montmorillonite, whey, organic parsley, salt, vitamin E supplement
Fiber (estimated dry matter content) = 6.3%
Red denotes controversial item
Estimated Nutrient Content
Method
Protein
Fat
Carbs
Guaranteed Analysis
13%
10%
NA
Dry Matter Basis
41%
31%
20%
Calorie Weighted Basis
30%
56%
15%
Protein =
30
% | Fat =
56
% | Carbs =
15
%
The first ingredient in this dog food is organic chicken. Chicken is considered "the clean combination of flesh and skin… derived from the parts or whole carcasses of chicken".2
Chicken is naturally rich in the ten essential amino acids required by a dog to sustain life.
The second ingredient is organic chicken heart. Although it doesn't sound very appetizing to us humans, heart tissue is pure muscle — all meat. It's naturally rich in quality protein, minerals and complex B vitamins, too.
The third ingredient is organic chicken liver. This is an organ meat sourced from a named animal and thus considered a beneficial component.
The fourth ingredient is organic ground chicken bone, an excellent source of natural calcium.
The fifth ingredient includes organic chicken eggs. Eggs are easy to digest and have an exceptionally high biological value.
The sixth ingredient lists organic carrots. Carrots are rich in beta-carotene, minerals and dietary fiber.
The seventh ingredient includes organic green beans, a healthy vegetable notable for its vitamin, mineral and natural fiber content.
From here, the list goes on to include a number of other items.
But to be realistic, ingredients located this far down the list (other than nutritional supplements) are not likely to affect the overall rating of this product.
With two notable exceptions…
First, montmorillonite is a naturally occurring compound rich in many trace minerals. Montmorillonite has been approved for use in USDA Organic Certified products.
Reported benefits include the binding of certain mold-based toxins and even controlling diarrhea and irritable bowel syndrome (IBS).
And lastly, except for vitamin E, we find no mention of added vitamins or minerals on the ingredients list.
Answers Detailed Formula Dog Food Review
Since this recipe contains a number of organic ingredients, we feel compelled to grant this line a more favorable status as we consider its final rating.
That's because organic ingredients must comply with notably more stringent government standards — standards which significantly restrict the use of any synthetic pesticides, herbicides, insecticides, hormones or antibiotics.
Judging by its ingredients alone, Answers Dog Food Detailed formula looks like an above-average raw product.
But ingredient quality by itself cannot tell the whole story. We still need to estimate the product's meat content before determining a final rating.
The dashboard displays a dry matter protein reading of 41%, a fat level of 31% and estimated carbohydrates of about 20%.
As a group, the brand features an average protein content of 41% and a mean fat level of 31%. Together, these figures suggest a carbohydrate content of 20% for the overall product line.
And a fat-to-protein ratio of about 77%.
Near-average protein. Above-average fat. And below-average carbs when compared to a typical raw dog food.
Free of any plant-based protein boosters, this looks like the profile of a raw product containing a significant amount of meat.
Bottom line?
Answers Detailed Formula is a meat-based raw dog food using a generous amount of named meats and organs as its main sources of animal protein, thus earning the brand 5 stars.
Enthusiastically recommended.
Please note certain recipes are sometimes given a higher or lower rating based upon our estimate of their total meat content and (when appropriate) their fat-to-protein ratios.
Answers Dog Food
Recall History
The following list (if present) includes all dog food recalls since 2009 directly related to this product line. If there are no recalls listed in this section, we have not yet reported any events.
You can view a complete list of all dog food recalls sorted by date. Or view the same list sorted alphabetically by brand.
To learn why our ratings have nothing to do with a product's recall history, please visit our Dog Food Recalls FAQ page.
Get free dog food recall alerts sent to you by email. Subscribe to The Advisor's recall notification list.
Dog Food Coupons
And Discounts
Readers are invited to check for coupons and discounts shared by others in our Dog Food Coupons Forum.
Or click the buying tip below. Please be advised we receive a fee for referrals made to the following online store.
A Final Word
The Dog Food Advisor is privately owned. We do not accept money, gifts, samples or other incentives in exchange for special consideration in preparing our reviews.
However, we do receive a referral fee from online retailers (like Chewy or Amazon) and from sellers of perishable pet food when readers click over to their websites from ours. This helps cover the cost of operation of our free blog. Thanks for your support.
For more information, please visit our Disclaimer and Disclosure page.
Important FDA Alert
The FDA is investigating a potential link between diet and heart disease in dogs. Click here for details.
Notes and Updates
"Last Update" field at the end of this review reflects the last time we attempted to visit this product's website. The current review itself was last updated 12/24/2017 ↩
Association of American Feed Control Officials ↩
06/28/2019 Last Update